Massage Therapy for Naperville and Warrenville
Wellness First is happy to offer massage therapy to the residents of Naperville and the surrounding areas. Nicole and Kelly are our two highly skilled massage therapists who specialize in Swedish, deep tissue, pregnancy, sports and infant massage therapy.
Each therapist is licensed in the state of Illinois and all have graduated from highly acclaimed schools of massage therapy. Wellness First has large massage rooms with comfortable tables, each with a fleece pad and table warmer.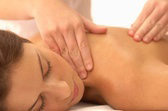 Insurance Covers Massage!
Insurance does cover massage therapy in our office for many patients. The normal co-payment on a thirty minute massage can be as low as just $8 per session. Most insurance that does cover this service will start out at 80% and go up from there.
To schedule your first massage therapy appointment please call us at (630) 922-9811 or click here to make an appointment,. We look forward to seeing you soon. Don't forget to book an appointment for that someone special as well.